Count Slugula
200px
Species:
Slug
Gender:
Female
Occupation:
Villain
Friends and Family
Enemies:
Lord Hater
Physical Information
Eyes:
Yellow and red
Body:
Green slug body
Outfit:
Unknown
Behind the Scenes
First Appearance:
 
"The Rager"
Last Appearance:
 
"The Rager"
Countess Slugula
is a character shown to be #7 on the galactic villain leaderboard in "The Rager". She is green-ish slug that probably moves from the high to low ranks on the leaderboard.
Appearances
"The Rager" (Galactic Villain Leaderboard only)
Physical Appearance
Based on what we've seen, she is a green slug with a green body.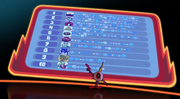 Ad blocker interference detected!
Wikia is a free-to-use site that makes money from advertising. We have a modified experience for viewers using ad blockers

Wikia is not accessible if you've made further modifications. Remove the custom ad blocker rule(s) and the page will load as expected.