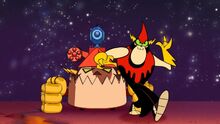 The H.A.T.E.R.V (Hater's Amazing Totally Excellent Rampage Vehicle) is a vehicle/toy that appeared in "The New Toy".
It was built by Lord Hater to attempt to impress Lord Dominator.
Appearances
Trivia
In the commercial Lord Hater made, at the bottom there was a warning label that said, "This is not a real toy. This will NEVER be a real toy. It is both insanely dangerous and commercially unsound. Lord Hater is neither a licensed toy designer or engineer. Do not try to build or bootleg this toy yourself."
Ad blocker interference detected!
Wikia is a free-to-use site that makes money from advertising. We have a modified experience for viewers using ad blockers

Wikia is not accessible if you've made further modifications. Remove the custom ad blocker rule(s) and the page will load as expected.