The Party Poopers



Sylvia and Wander with the Buttler

Season:
2
Production code:
217a
Broadcast number:
69
Story by:
Craig McCracken
Francisco Angones
Todd Casey
Amy Higgins
Noelle Stevenson
Written by:
Todd Casey
Storyboards by:
Benjamin Balistreri
Directed by:
Dave Thomas
Ben Balistreri
Broadcast Information
Disney Channel US Premiere:
TBA
Disney XD US Premiere:
April 4, 2016
International Debut:
TBA
See more...
Wander fights a massive case of the giggles while trying to impress a race of beings with unusual faces.
Episode Summary
TBA
Transcript
For a full transcript of The Party Poopers, click here.
End Credits
As Wander and Sylvia leave the party, the latter apologizes for wasting time with the High Gnees, when they could have been "enjoying nature's booty". This causes Wander to laugh once more as Sylvia states that she meant to say "beauty" during the end logos.
Gallery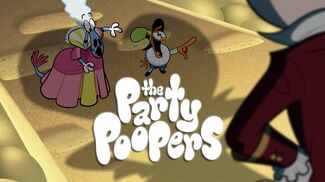 The image gallery for The Party Poopers may be viewed here.
Memorable Quotes
TBA
Background Information
TBA
Trivia
This is the first episode to use potty humor.
The High Gnees' faces were never shown, likely for censorship reasons.
The six-pointed star that serves as the High Gnee's symbol is not really a star.
Continuity
Two bingleborps from "The Greatest" reappear when they leave the ballroom sadly.
Errors
TBA
Allusions
The entire episode uses a lot of puns involving butts, or in this case, "toilet humor".
The term "party pooper" refers to someone who shows gloom or sadness over a social gathering, such as a party. Here, the term is used literally, in reference to the High Gnees and the constant use of toilet humor.
Production Information
TBA
Cast
James Adomian as Gluteus Maximus; Various
References
Ad blocker interference detected!
Wikia is a free-to-use site that makes money from advertising. We have a modified experience for viewers using ad blockers

Wikia is not accessible if you've made further modifications. Remove the custom ad blocker rule(s) and the page will load as expected.