The Waste of Time



Wander and Sylvia traveling through their past

Season:
2
Production code:
217b
Broadcast number:
70
Story by:
Craig McCracken
Todd Casey
Francisco Angones
Amy Higgins
Noelle Stevenson
Rachel Vine
Written by:
Rachel Vine
Storyboards by:
Howie Perry
Directed by:
Eddie Trigueros
Broadcast Information
Disney Channel US Premiere:
TBA
Disney XD US Premiere:
April 11, 2016
International Debut:
TBA
See more...
When Wander and Sylvia accidentally buy Time Orbbles, Sylvia must keep Wander focused or risk being lost in time forever.
Episode Summary
TBA
Transcript
For a full transcript of The Waste of Time, click here.
Songs
End Credits
Wander watches his past self attempt scoot down the hill during the events of "The Picnic".
Gallery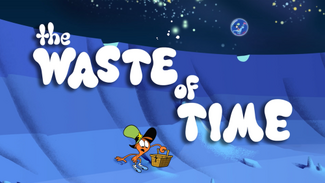 The image gallery for The Waste of Time may be viewed here.
Memorable Quotes
TBA
Background Information
This episode shows how Wander and Sylvia first met.
Trivia
Sylvia breaks the fourth wall when she says "We can't keep wasting our time watching past episodes...of our lives."
This episode confirms that Wander was previously known as Tumbleweed, a fact that was first mentioned in "The Good Bad Guy".
Apparently, Sylvia worked as a bounty hunter before she decided to join Wander on his travels, and even captured Wander at one point, a fact that she is not proud of.
Continuity
Wander and Sylvia visit the events of the past episodes including "The Picnic" and "My Fair Hatey".
Several scenes from previous episodes are seen when Wander and Sylvia are time traveling:
The background music from "The Stray" is heard when Wander and Sylvia arrive at the abandoned orbble station.
The scene where Wander meets Major Threat is played out exactly the same way as the opening scene from "The Picnic".
When Wander sees Hater trapped in the spider web, it foreshadows the episode "The Search for Captain Tim".
During the last time-travel sequence, a scene where a monkey in an astronaut outfit can be seen. This was probably a scene meant for the cancelled third season as the end credits of "The End of The Galaxy" showed a space shuttle with monkeys screaming.
Errors
TBA
Allusions
Star Wars - When Wander tells Sylvia about his encounter with Major Threat, he quotes the opening line of this film franchise.
Wilmur and Orbble Wright are an obvious parody of Wilbur and Orville Wright who made the first airplane flight at Kitty Hawk, North Carolina in 1903.
When Wander says "Gotta get back...Back to the past!", he's clearly referencing the theme song for Samurai Jack.
Production Information
TBA
Cast
References