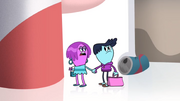 The "
Unnamed couple
" are a couple who appeared "
The Toddler
". They were the first to see
Sylvia
and
Wander
walk out of the candy store with
Huckleberry Knucklehead
, and the woman uttered "Ugh, we are never having kids" in shock.
Physical Appearance
The woman has pink skin and magenta hair, and she wears a light blue dress and flats. She also has blue eyes.
The man wears a purple hoodie, black jeans and brown shoes. He had blueish-black hair and black eyes.
Appearances
Ad blocker interference detected!
Wikia is a free-to-use site that makes money from advertising. We have a modified experience for viewers using ad blockers

Wikia is not accessible if you've made further modifications. Remove the custom ad blocker rule(s) and the page will load as expected.