Watchdogs
Talk

0
516pages on
this wiki
Physical Information
Eyes:
Eyeballs with red irises and black pupils
The Watchdogs serve as Lord Hater's minions and troops responsible for conquering planets and capturing opponents of Hater's in the name of their aforementioned evil master. Their warcry is "Hate's great, best villain!"
Physical Description
Edit
The Watchdogs are short, diminutive creatures who make up for lack of height through sheer numbers. They lack mouths (Even though they can speak fine) or any other defining feature save for a giant single Cyclops like eyeball with obvious red irises and black pupils on each. Like their overlord, Lord Hater, the Watchdogs have a single lightning bolt coming out of the tops of their helmets, although they have just one while Hater has two. They all dress identically in black and red uniforms.
Relationships
Edit
Lord HaterEdit
The Watchdogs are loyal to Lord Hater and will do whatever he says, including capturing Wander and Sylvia.
Commander PeepersEdit
Their relationship is unknown, but like with Hater, they will do anything he says.
The Watchdogs do not like Wander and will always try to capture him.
Their relationship is sort of unknown, but Sylvia always kick their butts.
The Watchdogs didn't seem to like Westley as they thought he was annoying, and always teased him. However, when he "captured" Wander and Sylvia on his own, they treated him with more respect and they were sad over his "death".
Known members
Edit
Appearances
Edit
Solos (In A Group Number)Edit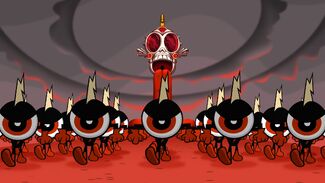 The image gallery for Watchdogs may be viewed here.
Background Information
Edit